How anonymous feedback helped strengthen the connection between a CEO his employees
Like many CEOs, Paul Binsfeld wanted more visibility into the health of his business. The organization he founded in 1997 was growing rapidly and new team members were joining the company at a fast pace. But as his workforce expanded, Paul felt increasingly disconnected from the day-to-day struggles of his employees. He needed a way to open the lines of communication and gain a clear understanding of how best to serve his team.
In 2013, Paul discovered TINYpulse and was surprised by the problems the tool uncovered. We spoke to Paul to find out more about his journey with TINYpulse and how anonymous feedback made a big impact on culture at his organization.
When Paul founded Company Nurse, keeping a pulse on his team was easy. "Things started out with just me and a few people yelling across a small office. That was the culture, and everyone just got stuff done." But as his employee base grew, he found it harder to maintain open lines of communication with his people.
For Paul, "more employees meant less time to connect and communicate with them." Of course he wanted to scale his business, but he also wanted to build strong relationships with the people around him, and learn how to help them be successful.
"It's a form of pressure release, if you will. People need to air out any frustrations or challenges that they are having and TINYpulse lets you do that."
Paul Binsfeld, CEO
With countless responsibilities as a CEO already on his plate, Paul needed a solution to discover insights into the health of his team that was fast and effective. That's why in 2013, Paul turned to TINYpulse."As the company's leader, I knew it was important to stay connected to my employees and understand what they are thinking and feeling — Are they happy in their role? Are they facing any challenges?"
With a fast-growing workforce, it's no surprise that Paul didn't have time to communicate directly with employees as much as he wanted to. But there were also other communication challenges that prevented him from reaching his team. .
1. Employees felt uncomfortable voicing concerns
Workers often feel pressure within their organization to stay upbeat and positive at all times. This may mean they avoid speaking out about issues for fear of the complaint reflecting badly on them. This is especially true when it comes to speaking to the CEO.
For Paul at Company Nurse, this was frustrating because he wanted to hear from his team. "Some people didn't feel they could really come to me and talk to me. It's not that I'm unapproachable; it's just that was the feeling in the company."
Through TINYpulse, employees are able to send feedback anonymously, so they feel more comfortable opening up. Paul says "I love the fact that TINYpulse is anonymous. When I respond on TINYpulse, I can reassure them that I don't know who they are."
And by giving employees an outlet to vent their concerns, the tension that's built up gets diffused. "It's a form of pressure release, if you will. People need to air out any frustrations or challenges that they are having and TINYpulse lets you do that".
2. Employees didn't want to worry leaders
Just as leaders must decide how much information to share with their team, the team decides the same. Employees might choose to withhold information from their CEO either to avoid concerning them with trivial issues, or to prevent them from discovering mistakes.
This communication style may work for some leaders, but Paul wanted to hear about life in the weeds so he could offer support. "In the history of running this business, I've been surprised many times by fires that were burning that I didn't know about. And I wonder 'how come nobody told me about this?' Well, they didn't want to bother me." .
When Paul started using TINYpulse, he was able to learn more about his business. "I could give people the opportunity to share something. They could say 'Hey I'm really happy here, but here's something to think about.' And we use that information as a leadership team to be more responsive to our people."
3. Management acted as an information filter
A CEO can only have so many direct reports, which means most of their knowledge about the company will be delivered to them by just a handful of sources. With so few information channels, it's inevitable that leaders won't hear every side to a story.
Sometimes the problem gets out of hand. This was the case for Paul when he discovered some managers were communicating in a way that was misleading. .
"I had a manager who was telling me one thing that was totally different to what I was hearing through TINYpulse. That's when I really appreciated the tool because I could balance what I was hearing from the manager. That's invaluable because it's a cultural issue you need to deal with quickly."
4. Remote workers were disconnected from the conversation
Some organizations are reluctant to embrace remote work because they worry communication will suffer. With TINYpulse, remote workers have an outlet to share how they're feeling and talk about problems with their manager before it's too late. Paul shared his experiences communicating with employees out of the office.
"Three years ago, we really embraced work-from-home. And that's great because employees save an hour and a half on the road, but trying to interact with them is hard since communication isn't in-person. So TINYpulse was a great way to keep my finger on the pulse of my organization."
"I had a manager who was telling me one thing that was totally different to what I was hearing through TINYpulse. That's when I really appreciated the tool because I could balance what I was hearing from the manager. That's invaluable because it's a cultural issue you need to deal with quickly."
Paul Binsfeld, CEO
During the five years that Company Nurse has been collecting feedback through TINYpulse, its leaders have been deeply committed to acting on the suggestions provided. Paul says "I wasn't afraid to hear the bad stuff. Once it started coming, I knew I had to do something with it. I couldn't just let them share their thoughts and there be no response."
Some of these action items have made a big impact to the employee experience at Company Nurse. Soon after using TINYpulse, the organization's onboarding process underwent a major revamp. "One of the early questions on TINYpulse was 'What did you think of your onboarding process?' The answers that came back were universal - there really wasn't an onboarding process. It was one of the failings of how we operated bringing on new people."
As a result, Company Nurse developed a program that re-envisioned how new employees were introduced to the team. "Now when someone new arrives, we present a culture video that talks about our brand, what it means and how we grew it. We also have a little gift for new employees. That way they feel welcomed into the organization, like we were expecting them."
For Paul, changes like this are incredibly important to maintaining the health of his organization. By asking a specific question about an aspect of the employee experience, Company Nurse was able to fix a broken process that hadn't really been discussed before.
Since the first wave of changes, Paul has continued to hone his culture by listening closely to employee concerns. When workers voiced uncertainty around Company Nurse's future prospects, leaders at the organization worked together to improve the way their vision and mission was communicated to the team.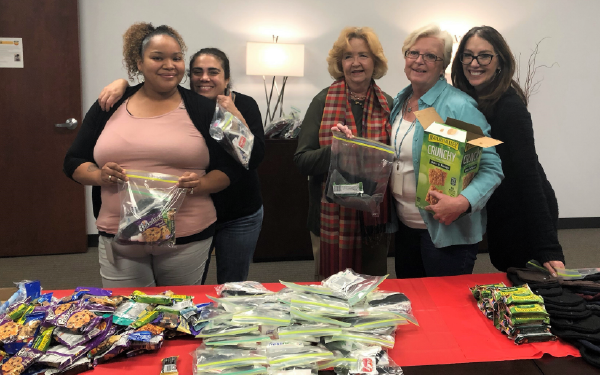 Company Nurse team members packing "Blessing Bags" to hand out to those in need.
Paul said "One of the early observations from people was that they really don't know where we're going. They're out working as a nurse on the frontline wondering: are we growing, are we profitable, are we investing in the company? They have no clue what's going to happen because they're just doing their job."
To combat this trend and create momentum around a shared mission, the leadership team got to work on three major initiatives:
1. Establishing a vision document
Employees at Company Nurse now have a central location on their intranet to share stories and successes. They can also access a vision document that talks about how the company has performed in recent weeks and where things are headed for the next quarter.
2. Reinforcing the mission through story-telling
Paul holds regular meetings each quarter to share the history of Company Nurse and solicit questions about their vision. Paul says that these meetings answer questions like: "What is our why? What impact do we have in the workers comp industry? And what impact do we have for injured employees? Because we want everybody to see the bigger picture and feel that what they're doing is making an improvement in people's lives."
3. Audio Interviews with leaders and customers
Key leadership individuals and customers are scheduled regularly for 12-15 minute audio interviews with Paul. The aim is for each person to tell a story that will resonate with employees. In some of the interviews, Paul says. "We've had customers talk about what it means to have this service for their injured employees. For anyone who is delivering service in our office it's gotta feel good hearing that feedback and understanding how we positively impact other people's lives."
Building great two-way communication into your culture takes work. And the work is never truly over. Paul and his team understood that making small changes over time can lead to big improvements in how happy, informed and engaged his employees were. By providing his team with great communication and support, they feel more secure in their roles and better equipped to delight their customers. Similarly, by asking his team the right questions, Paul was able to get a better grip on the health of his people and his business overall.