The average American worker is given 10 vacation days each year. That's nice and all, but two weeks isn't a heck of a lot of time off if you're trying to travel around the globe and explore new places. Many people, for example, spend their vacation time visiting their families who are scattered across the country or across the world.
European workers fare better than their US counterparts, with the average worker benefiting from at least 20 vacation days each year. Understanding how traveling helps humans gain perspective and learn new cultures, at least one European CEO has decided to take things a bit further, giving his employees $2,300 and an extra seven days off in order to take an "inspiration trip" anywhere in the world they'd like to visit.
Bjorn Jeffrey is the CEO of Toca Boca, a digital firm based in Stockholm, Sweden, that makes games for kids. To reflect company culture, Jeffrey decided to encourage his staffers to travel more and get inspired by their experiences.
"We don't decide where they go — that's up to the employee," Jeffrey said in a recent interview. "They need to self-organize in order to find the things that inspire them. It's all about finding your creative fuel."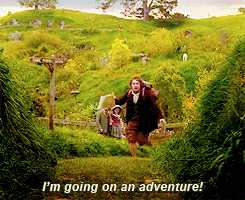 SOURCE: GIPHY
Here's how it works. Employees are given the money. They have to coordinate with their managers to see what week they can take off. Spouses are allowed to tag along with employees, and any money that isn't spent out of the $2,300 rolls over into the individual employee's travel fund for the following year.
In addition to helping his employees achieve a more desirable work-life balance, Jeffrey says the unique perk helps attract top talent and drives competitive advantage.
"It acknowledges the importance of feeling inspired when you're doing creative work," Jeffrey said. "It also acknowledges that different people need different things to feel inspired. Perks don't have to be super expensive. They can just break the mold of what you expect. That alone can have a positive impact on work culture."
Not every company has the revenues and the resources needed to give their workers a couple thousand extra dollars and an extra week off to explore the world. Despite that, there's virtual certainty that every company can figure out a way to enhance the perks they offer their employees — without even breaking the bank.
For example, your company can establish a remote working policy that enables members of your team to work from home (or anywhere they'd like) at least a few times a month. Studies show that remote workers are happier than their peers who are chained to their desks every day. You can also increase engagement by enabling your workers to make their own flexible schedules. If an employee would prefer to work 11 a.m. to 7 p.m. every day, for example, what's the harm in letting them do that? So long as they are keeping their obligations and holding up their end of the bargain, does it really matter what specific times they work?
The bottom line is that your company will be more attractive to top talent with every additional perk you offer. Think outside the box and get creative. Invest in your employees and they'll return the favor.
RELATED POSTS:
r