Bad bosses make work awful for their employees.
In fact, according to a recent Forbes article, three out of every four workers say their bosses are the worst and most stressful parts of their jobs. What's more, 65% of workers would take a new boss over a pay raise. Since you might think the main reason we go to work is to get paid, that figure is quite revealing, to say the least.
On the flip side, great bosses make work exciting. Employees who work for them are happy to show up to the office every day and consistently go above and beyond, getting more done and supporting their coworkers when they're able to.
It's easy to figure out whether you have a terrible boss. And you'll probably know when you have a good boss, if for no other reason than they aren't terrible.
But if you want to reach your full potential as a worker — or, as an executive, you want your organization to make it to the next level — you need to have great leaders. Here are seven traits that the best bosses have:
01.

They don't micromanage
When you work for a boss who micromanages you, things can get pretty depressing — and quickly. Great managers understand that you were hired to do a specific job. To this end, they let their employees work autonomously a majority of the time. They treat their team like adults — not children who need to be supervised constantly.
02.

They recognize your hard work
Employee recognition plays a huge role in engagement and productivity. Unfortunately, according to our Engagement Report, not even one in three employees feels valued at their jobs. Great bosses understand that recognition motivates their employees to reach their full potential. They go out of their way to compliment their employees on a job well done.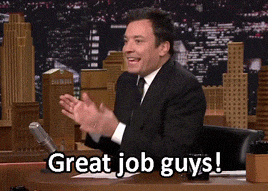 SOURCE: GIPHY
03.

They support your professional development
Professional development is one of the top things today's employees look for at their jobs. But only 25% of workers believe their organizations offer adequate opportunities for professional development. Great managers understand that professional development plays a huge role in improving the effectiveness of any team. They support their employees however they can.
04.

They communicate clearly and regularly
Nobody likes to be surprised by major developments at work. Great leaders make sure to keep their employees in the loop about what's going on at the company. Workers are never blindsided by huge news.
SOURCE: GIPHY
05.

They take the blame for team failures
From time to time, every team will fail. You can't win them all. Instead of throwing their employees under the bus when things don't work out as planned, great bosses take responsibility for less than optimal results.
06.

They respond to feedback
Great bosses understand that their employees have unique insights and ideas. They also understand that work can always become a better place to be. In this light, they regularly solicit feedback from their employees. And they aren't afraid to change things up when someone shares a great idea.
07.

They lead by example
Nobody likes to work for someone who says one thing and does another. Great managers understand this perfectly, which is why they're usually the hardest workers in the office. They tell their employees what their expectations are, and they work hard to make sure it's obvious they hold themselves to the same standards.
RELATED POSTS: