Happy Spring!
You can't expect your team to reach its full potential if most of your employees are more or less strangers. Yet according to our Engagement Report, only 24% of workers feel connected to their colleagues — which represents an 11% dip from the previous year.
How strong are the interpersonal relationships your workers enjoy?
Now that the snow is beginning to thaw and warm weather is right around the corner, it's as good a time as any to schedule a number of outdoor team-building activities. Not only will a change of scenery excite your employees, team-building activities will also bring your workers closer together. As a result of the increased camaraderie, culture is strengthened — and employees become more engaged.
Curious as to what kinds of team-building activities your team can enjoy this spring? Here are seven ideas that should get you thinking in the right direction:
01.

Scavenger hunt
Who doesn't love a good old-fashioned scavenger hunt? Separate your team into small groups, making sure to put employees from different departments who rarely work together or interact on the same teams. Come up with a list of items your employees should search for on your office grounds or in the town you're based in. First team that finds everything wins.
02.

Go for a hike
If you live near some open space, take a field trip with some outdoorsy folk and go for a short hike. In addition to enabling your team to get some exercise during work hours, you'll also take in the sights and have some great conversations.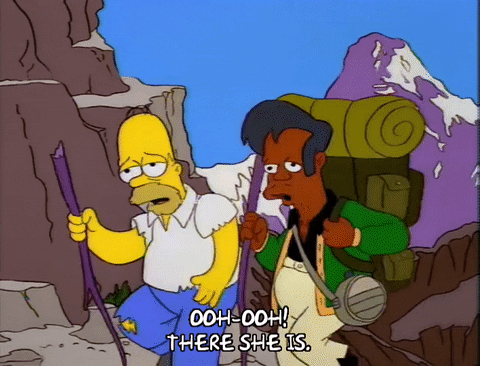 SOURCE: GIPHY
03.

Have a picnic
Everybody needs to eat. Pick a Friday afternoon to head to a park that's close by. You can either cater the picnic or encourage everyone on your team to bring an item or two. Some of your workers will show off their culinary skills, while others will opt to prove how adept they are at purchasing quality food items.
04.

Miniature golf
When is the last time you tried your luck on a miniature golf course? See whether your team would be interested in playing some putt-putt. Better yet, make a tradition out of it. Give this year's winner a customized trophy that they'll then pass off to whoever wins the following year — assuming anyone can ever dethrone them.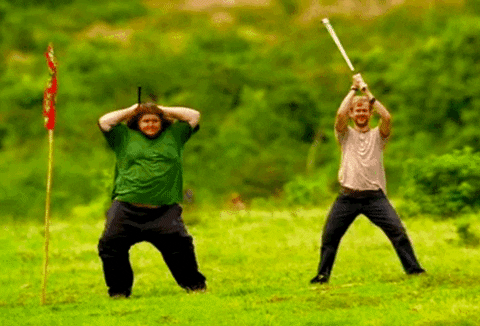 SOURCE: GIPHY
05.

Play pick-up sports
Head to a field to throw a Frisbee, kick the soccer ball around, play touch football, or shoot some hoops. For best results, make sure that employees are teamed with colleagues they don't know too well. Even if they're strangers, they'll be forced to work together to achieve an outcome.
06.

The human spring
Break your team up into pairs of workers who don't know each other that much. Have teams face each other and touch palms until they're holding each other up. Instruct them to keep moving back and see who can hold it the longest.
07.

The water balloon toss
If the weather is warm enough to allow it, break your team into pairs again. Give each team a water balloon. Have them play catch with the balloon, taking a step back with each successful catch. Find out who can make the most completions.
RELATED POSTS: