On Thursday, April 27, professional parents across America will take their kids to their offices to celebrate the annual Take Our Daughters and Sons to Work Day. Last year, 39 million people participated in the event.
Does your office celebrate the holiday? If not, you may want to reconsider. Aside from the number of benefits the day more commonly known as Take Your Kids to Work Day provides to our sons and daughters, it can also help improve work-life balance while doubling as a team-building exercise.
And, truth be told, you never know when an employee may be inspired by an idea that comes out of a child's mouth.
Once you've decided to let your employees take their kids to work to celebrate the holiday, you need to develop a game plan that ensures parents and kids alike enjoy the day as much as they possibly can. You can't expect to wing it and have a successful day.
Prior to the celebration, make sure your employees speak with their daughters and sons to tell them what they can expect. It's important to reiterate that workers shouldn't force their children to tag along if they absolutely do not want to. But the kids that do want to come should know that they are expected to behave professionally. After all, work isn't recess — however badly we wish it was.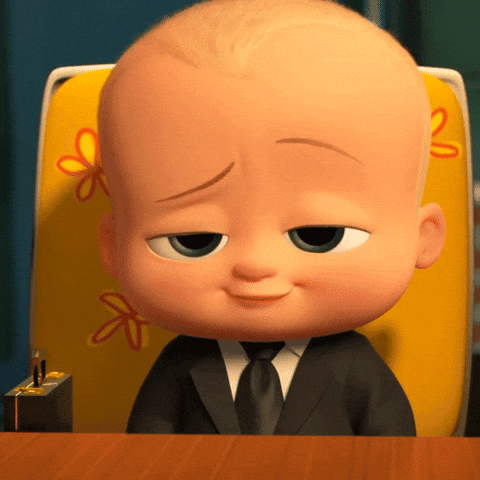 SOURCE: GIPHY
When the kids who are eager to participate show up on the morning of Take Our Daughters and Sons to Work Day, have them head to their parents' desks and make name tags. Once all of the kids have arrived and name tags are in place, it's time to make a lot of introductions, with kids meeting other kids as well as their parents' colleagues.
To make the most out of the holiday — while still maintaining some semblance of productivity — plan a few kids-only activities to break up the day. Not only will this enable your employees to make some progress on their workloads, it will also give the young ones a chance to blow off some steam and do some fun things.
Drawing a blank as to what some of these activities might look like? Here are some ideas:
The Chocolate Company Challenge: Procure a serious amount of chocolate candy bars. Break the kids up into small groups of four or five. Have each team build a structure with the chocolate bars. After the structures are built, walk around the room and discuss them. Once that's done, the kids can eat some of the structures they created. This event teaches kids how to think creatively and how to work in team settings.
The Budget Worksheet: Recent news reports suggest 50% of Americans would be unable to write a $500 check to cover an emergency. That being the case, it's never too early to get your kids to start thinking about managing a budget. Use this budget worksheet as an activity to teach them a little bit about finances.
Workplace Exploration: Lead the kids on a tour of the office. Have them stop at each different department and ask them what they think it is responsible for. Try to connect each department with something the kids have learned in school. The finance department, for example, can be connected to math. The R&D department can be connected to science.
Above all else, remember to have fun on Take Our Daughters and Sons to Work Day! That's all that really matters. Good luck!
RELATED POSTS: