Team building is a critical component to the success of your company's culture and performance. Cruise or fly away with your crew on these fun and unique experiences that are guaranteed to boost morale, foster collaboration, and build bonds and trust between coworkers.We asked one of our customers, SHWorldwide, to share some of their recommendations for unique team events in the Seattle area. SHWorldwide recently launched BienVenue, an online marketplace for events in Seattle and surrounding areas.
Here's what they came up with:
Team Building on the Water
Keep your team onboard, and cruise with them to the next level of success. Here are our top three team-building activities that take place on Lake Union in Seattle:
1. Argosy | Lake Union
Make a statement with a fun and interactive game show trivia party on the water. Impress your guests aboard the Celebrations vessel by Argosy Cruises with a three-hour cruise on Lake Union and Lake Washington including delectable dishes, a full-service bar, and a talented game show host to captivate your audience and keep you laughing throughout the entire event. You can provide fun questions about your company that only your guests would know to customize the game show trivia experience.
2. Westward | Seattle
This is the perfect spot to host a team luncheon and to hold corporate summertime celebrations of any kind. Your luncheon can include a creative water-inspired menu, oyster shucking, signature cocktails, and stunning views from the north end of Lake Union. Electric boats are available for guests to take for a spin around the lake from the restaurant's dock.
3. Electric Boat Company | Lake Union
Take your crew out for something new and different. The Electric Boat Company offers an on-the-water scavenger hunt that is competitive and exciting. Your boats compete with one another to find various locations and points of interest on the lake, and you'll take pictures with cameras provided by the Electric Boat Company. You can share catered food and beverages onboard, mingle in the relaxed atmosphere of their waterside yacht club for a catered lunch or dinner, or enjoy a bartended cocktail hour while traffic floats away.
Team Building in the Air
Another sense of adventure for your team is taking flight together. Here are our top two ideas that get your team flying high:
1. Museum of Flight | Seattle
Fly away at the Museum of Flight and enjoy a night with your guests traveling through time in the Museum of Flight's Aviation Pavilion. The Pavilion is a covered, outside gallery with 19 rare and unique commercial and military airplanes. The three-acre display focuses on the dramatic development of large aircraft and commercial airliners from the 1930s to the present. Enjoy a casual reception with food and beverages or a fancy evening starting with a cocktail reception next to the first Air Force One and ending with an aerial show and views of the first Boeing jets.
The Museum of Flight can also bring in Geoteaming, a company that specializes in corporate team building that uses technology and adventure to create breakthroughs and results. Their signature product is a high-tech adventure using GPS devices, digital cameras, and smartphones to navigate teams through an obstacle course of virtual, physical and cerebral challenges that get participants' minds and bodies moving.
Or if you want to be extravagant, the Museum of Flight offers aircraft fly-ins! Fly into your event in your own aircraft. You can land at Boeing Field and park on the museum's ramp.
2. Northwest Floatplane Picnics | Seattle Area
Northwest Floatplane Picnics has teamed up with Kenmore Air to provide an unforgettable remote picnic on a beach accessible only by air or sea. Take your team to discover the perfect picnic setting with gourmet food, a scenic seaplane ride, and a custom-made day at the beach. Group activities include volleyball and Frisbee competitions, scavenger hunts, and survivor-type seminars.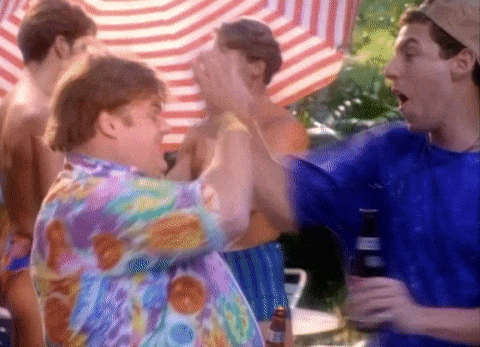 SOURCE: GIPHY
Now that you have some ideas as to what team-building activities might work best for your team, here are three reasons why adding a boat or a plane to the mix is better than just a land venue for corporate events:
They give you a sense of getting away from the city with your team, creating a memorable experience

You are placed in a secluded place with your coworkers; there is no escape from bonding and building connections

They add a sense of adventure, which will increase your team's excitement, leadership, and morale
Remember, these kinds of activities should be fun. When you're on a boat or a plane, you'll already have an excited team in the right frame of mind to connect and work together. Create unforgettable memories for your team that keep them passionate about their work and the company they are working for. The connections built and the lessons learned will be carried through to the workplace in ways you never imagined.
RELATED POSTS: