Today's employees care a great deal about opportunities for professional development.
In fact, professional development is the third highest driver of employee happiness, a figure we uncovered in our 2017 Engagement Report. Despite that, only 26% of workers feel as though their employers offer adequate opportunities to learn new skills and develop new talents.
In order to attract candidates with the highest talent potential and keep them on board after you hire them, your company needs a competitive professional development program. With that in mind, let's take a look at six ways you can strengthen your development program — and, by extension, fortify your company as your employees improve over time.
01.

Understand your employees' goals
As the Harvard Business Review points out, one of the most important responsibilities of any manager is to help their employees grow in their careers. To do that, you first need to ask your employees what their career goals are and find out where they see themselves in the future. Once you understand their goals, you can develop personalized development plans for each employee.
02.

Sponsor trips to seminars, trade shows, and conferences
To progress in their careers, employees need to learn new things, develop new skills, and enjoy new experiences. To this end, organizations should support their employees by sending them to relevant seminars, trade shows, and conferences that are nearby. If that's not in the budget, give your employees some time each week — or at least each month — to take in a few free webinars.
03.

Create a mentorship program
One of the best ways for an employee to learn new skills is by shadowing a more senior-level colleague. Create a mentorship program that encourages veteran employees to team up with rookies and share their knowledge. As an added bonus, great relationships can develop between mentors and mentees — which can improve morale and strengthen camaraderie across the organization.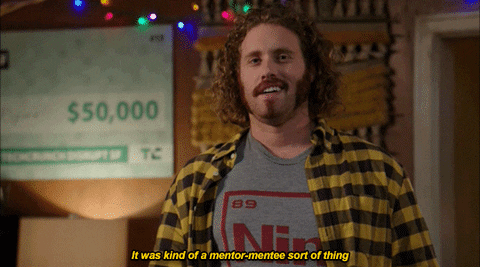 SOURCE: GIPHY
04.

Encourage cross-departmental collaboration
Doing the same tasks over and over again can drive anyone crazy. In addition to switching things up and helping employees break out of their routines, encouraging cross-departmental collaboration can also help workers develop new skills. Like mentorship programs, this kind of collaboration can lead to new relationships as people get to work with colleagues they normally wouldn't.
05.

Host and attend networking events
Networking is a great way to meet new people, improve your conversation skills, and be inspired to try things a different way. When the calendar and budget allow for it, host networking events and meetups that get your employees in front of like-minded professionals. In addition to raising brand awareness and inspiring new ideas, your team will meet some key players that could help them later on in their careers — and help your company develop partnerships in the meantime.
06.

Utilize pulse surveys to chart progress
Don't wait until the end of the year to review your employees' performance to make sure they're making progress on their goals. Instead, utilize pulse surveys — which can be administered electronically once a week or every other week — to keep tabs on how your workers are performing. That way, you can know right away whether they're veering off track, and if so, you can take immediate steps to move things in the right direction.
RELATED POSTS: